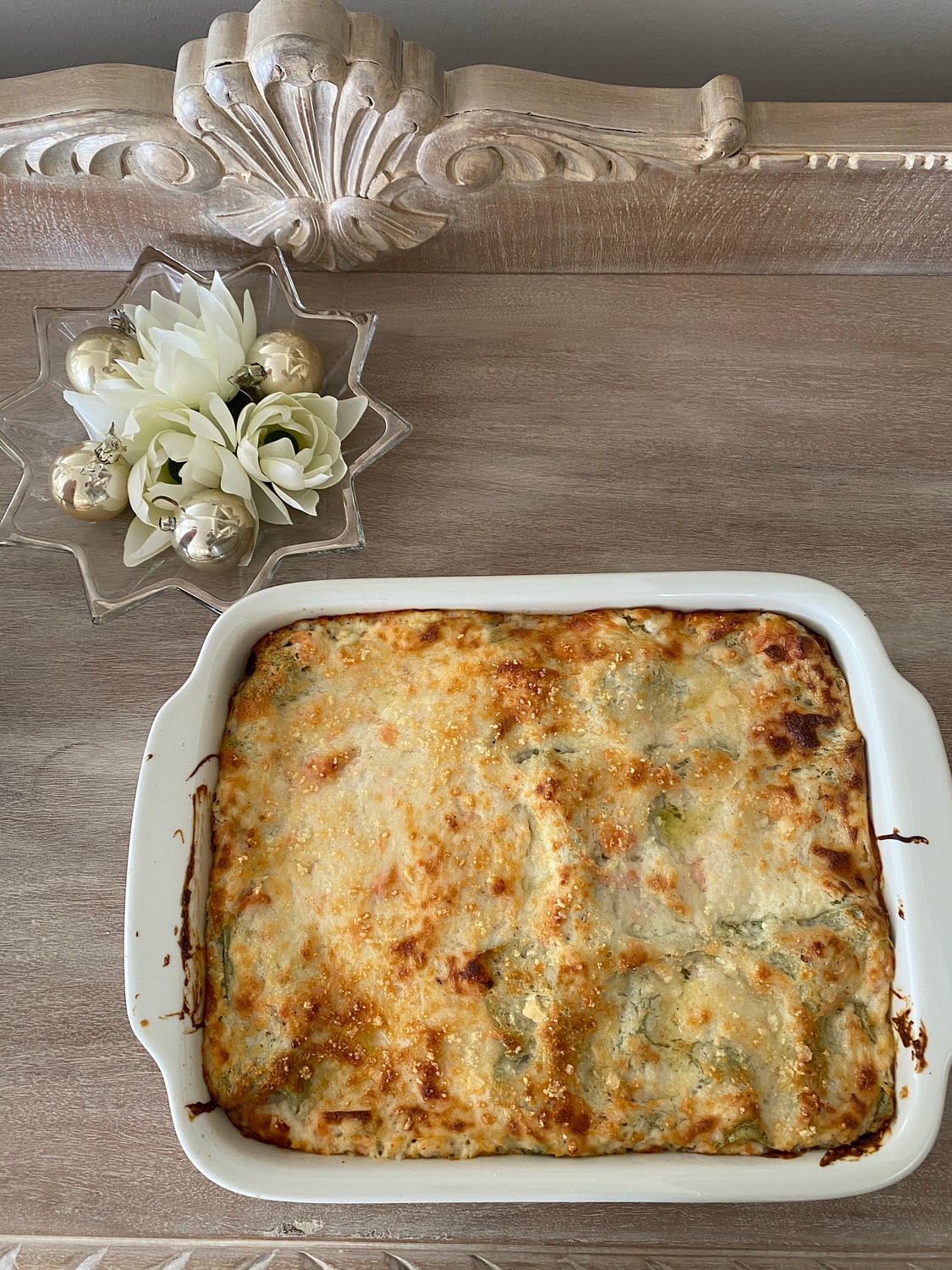 Υλικά (Lazania with salmon)
1 κουτί πράσινα λαζάνια (περίπου)
400 γρ. καπνιστό σολωμό
200 γρ. καπνιστό τυρί βερμίου
300 γρ. μοτσαρέλα Δανίας
2L γάλα φρέσκο ελαφρύ ή πλήρες
Βούτυρο 150 γρ.
Κορν φλάουρ 150 γρ.
Γκράνα 150 γρ.
Εκτέλεση
Κόβουμε τον καπνιστό σολωμό σε λεπτά κομμάτια, το καπνιστό τυρί και τη μοτσαρέλα σε μικρά τετραγωνάκια και προετοιμάζουμε τη μπεσαμέλ. Για τη μπεσαμέλ λιώνουμε το βούτυρο σε μια κατσαρόλα. Μόλις λιώσει, ρίχνουμε το κορν φλάουρ και ανακατεύουμε καλά με τον αυγοδάρτης και μετά ρίχνουμε σιγά σιγά το γάλα. Όταν βράσει η μπεσαμέλ, κατεβάζουμε από τη φωτιά και ρίχνουμε λίγο αλάτι, πιπέρι, και μοσχοκάρυδο. Επίσης, το λεπτό κομμένο σολωμό και τα τυριά και ανακατεύουμε πολύ καλά. Σε ένα πυρέξ ξεκινάμε να στρώνουμε το φαγητό μας. Στον πάτο του τοποθετούμε λίγη μπεσαμέλ, από πάνω τα λαζάνια και λίγη γκράνα. Συνεχίζουμε το στρώσιμο μέχρι να φτάσουμε στο τελευταίο επίπεδο κλείνοντας με μπεσαμέλ, γκράνα και λίγο βούτυρο. Τοποθετούμε το πυρέξ μας σε προθερμασμένο φούρνο στον αέρα στους 180οC και ψήνουμε μέχρι να ροδίσει. Μερίδες: 8-10 άτομα.
*See also: Smoothie for detoxication!, Trattoria: Eat the tastiest from the best!, Couleur Locale: The Café-bar with view to Acropolis!, Healthy Smoothie with 3 ingredients!, Spaghetti al basilico: A simple and delicious 🤤 recipe!, Recipe: Homemade Schrimp Whole Grain Spaghetti !, Spaghetti Skioufihta: A traditional recipe of Crete!, Pizza Margherita Light!-An alternative recipe with delicious taste!, Authentic Italian Carbonara in 20 minutes!, Beach of Sounio-Beaches of Greece!, What is next? Diet after vacation!


Add to favorites